Autumn-Inspired Kitchen Design Ideas
Summer may be the most outright colourful season, but we absolutely love autumn here at controlled interiors. With its deep red sunsets, crisp, crunchy leaves underfoot, and moody still-to-fall foliage ranging from bright yellows to radiant oranges and even earthy browns, the month of October in particular has a warm rustic feel and charm all of its own.
In fact, we love the autumn so much, we decided to pen a kitchen design blog inspired by it!
These are our five favourite autumnal kitchen trends and how you can use them to give the heart of your home that feeling of fall, all year round.
1. Make your autumnal theme the centrepiece of your kitchen
Our first tip to create an autumnal kitchen is to bring the autumnal colour scheme to whichever element of the room works as the visual focal point.
If you have a particularly large kitchen and that focal point is your kitchen island, consider adding a burnt orange to either the countertop itself, or the sides. Or you could even add low-key orange lighting beneath the lip around the edges of the island.
If you have a long kitchen with two work surfaces on either side and a door at the end, it could be that the door gets the autumnal makeover instead. Alternatively, your oven and cooker head might be the room's natural focal point. In which case, why not swap it out for a rustic-feeling range cooker that comes in a burnt orange, dark green or even a moody burgundy?
2. Place tasteful autumnal colours and items throughout your kitchen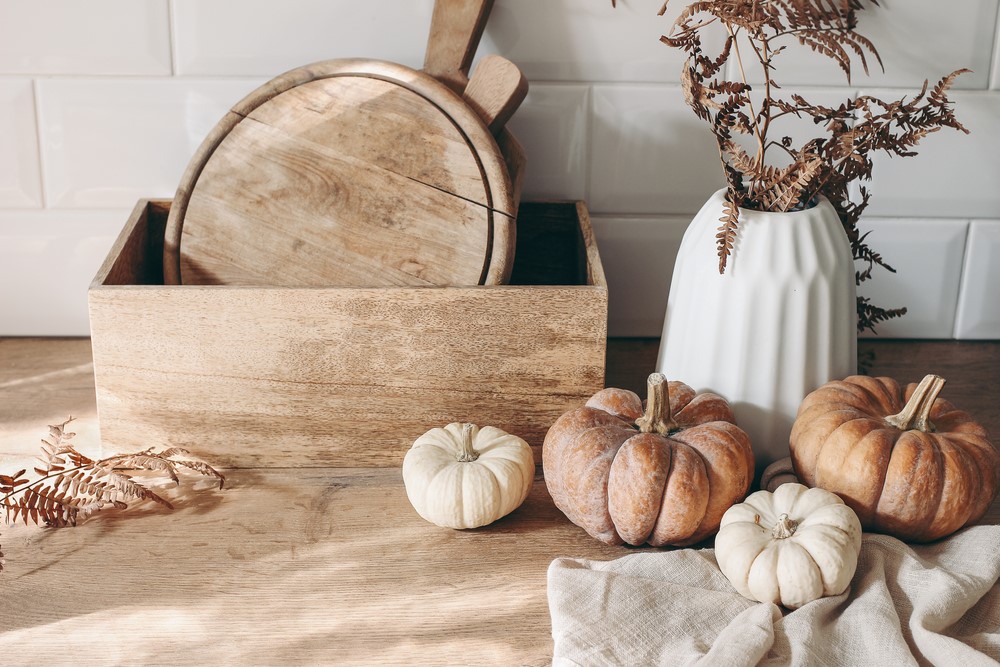 An alternative idea for a kitchen with an autumn feel is to take the autumn colours idea and liberally dot them around your kitchen – ideally, everywhere that isn't the focal point of the space.
One particularly tasteful idea we like is the use of a brickwork or tiled autumnal-coloured backsplash brightening up the wall right behind your hob. This wouldn't go very well in a space where the cooker was also a shade of orange, but it could work wonders with a range that's a more neutral colour.
But why stop there? With a little imagination, you can bring all of the colours you see outside in autumn into your kitchen. We're talking tasteful matt gold or earthy oak handles on white cupboard doors. We're thinking wooden spice racks or tiered serving stands. You could even use old-fashioned small wooden crates to store on-surface items, and place decorative items or shelving on the wall that adds to the fall feel.
Whatever you do, make sure to do it tastefully. Remember to offset all of those golds, yellows, oranges and browns with a lighter colour, or it could all start to feel just a little bit too much.
3. Add rustic touches to your kitchen surfaces
Our third kitchen design idea for the fall season is to not just bring the colours of mother nature into the room – literally bring in mother nature herself!
If you don't already have them and you're happy paying the money for a kitchen makeover, wooden countertops could be an incredibly attractive prospect if you're beguiled by the idea of an autumn-all-year-round kitchen space.
If you're on more of a budget, however, then you could still achieve that feeling with a more creative and low-key approach. You could, for instance, place autumnal windfall fruits like apples into a large open-top mason jar; create a cosy warm vibe by lighting candles on window ledges a night time; or add small, tastefully coloured artificial pumpkins or plastic pine cones to the space for decorative purposes. Even your wall calendar or kitchen towels could be a quick, inexpensive way to bring the autumn into the heart of your home. The possibilities here are endless, so just ask yourself – what does autumn mean to you? Start there and then go searching for the rustic touches you need to make your autumnal kitchen sing.
4. Bring tasteful foliage into play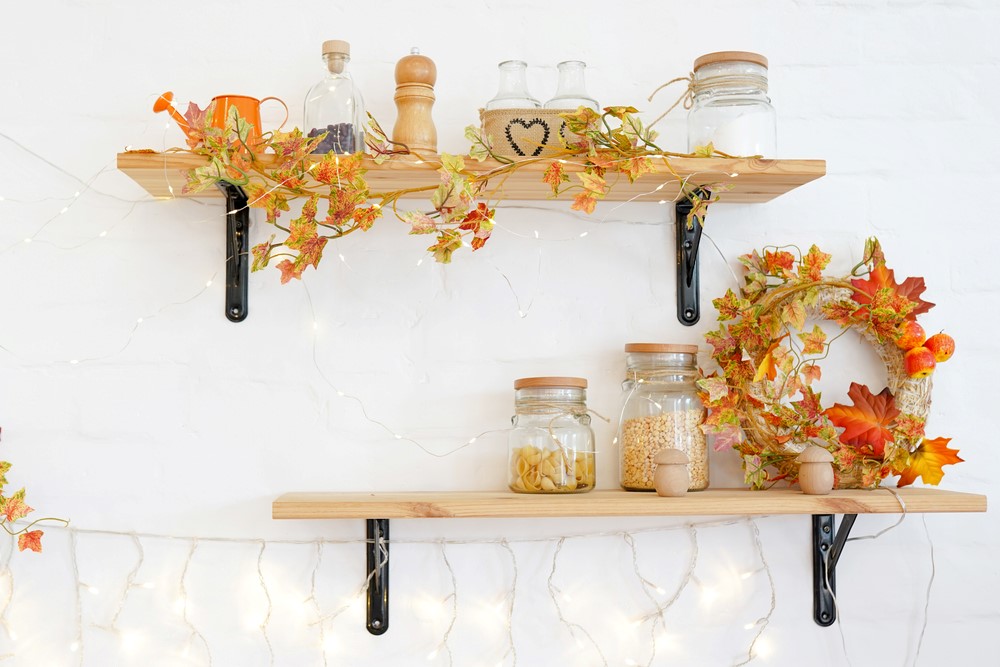 If you liked the idea of using elements of mother nature in your autumnal kitchen – well, why stop there? Another top tip for an autumn-feeling kitchen is to use plants with autumnal colours to frame the kitchen and give it that rustic feel you're looking for. Another consideration here is the pots you use – go for clay, plastic or wicker ones that give you that same earthy feel – you could even find one that looks like a little wheelbarrow to really give that outdoors-indoors vibe.
On the other hand, your kitchen is already likely to be a font of activity in your home, with people coming and going and lots of meal, drink or snack prep happening at any one time. If the idea of watering plants and pruning stems is all a bit much, you could always opt for plastic plants instead. All of the autumnal colours, none of the hassle – meaning they look great for absolutely zero maintenance, all year round.
5. Consider your practical needs as your seasonal menu changes
Where our other autumnal kitchen design ideas focused on aesthetics, our final one is much more about practicality and the way you'll actually use your kitchen during the colder seasons.
With the first vestiges of spring in March still some six months away at the time of writing, the chances are your eating habits for the foreseeable future are going to focus largely on hearty, warm, cold-weather dishes. So now might be the time to step back and think about how you use your kitchen and the things you'll need to have handy. Will you really be using that ice cream maker out, or fruit juicer handy, without lots of picnics to attend, or great big gazebo-filled garden parties going on?
Autumn is the time where gatherings move indoors and start to eat roasts, stews, soups, casseroles and goulashes – so make sure to move things around and make things like crock pots and slow cookers handy instead. Reorganise your cupboards and work surfaces too while you're at it, and you might even make room for some of the autumn kitchen design tips we've mentioned above.
Thinking about fitting a new autumn-inspired kitchen?
At Controlled Interiors, we have some wonderfully traditional and modern shaker-style kitchen designs that lend themselves well to a fall-feeling kitchen. We also have some sleek-but-wood-filled modern kitchen designs which, with a few decorative touches, you could easily turn into a leaf-lined oasis at the heart of your home. The only limit is your imagination!
To find out more and set up a design consultation, get in touch with our team today.
Recommended reading
· Six Big Summer Kitchen Ideas
· Kitchen Transformations: A Wonder in Warsash
· How To Plan Your Ideal Kitchen
· Traditional Kitchen Design Ideas