Kitchen Transformations: A Wonder in Warsash
Here at Controlled Interiors we specialise in giving dated, tired-looking kitchen spaces a brand-new lease of life. That was certainly the case when husband and wife David and Rosie got in touch with us earlier this year about fitting a brand new Leicht kitchen at their home in Warsash, Hampshire.

10 years of making do
"There were lots of things wrong with our old kitchen," says David. "In terms of usability, it was too small because it had a wall in the middle to separate the breakfast room and kitchen. That meant we had to have the fridge and freezer in the breakfast room and walk from room to room to use them.
"The style was also very dated. The countertops were tiled which was a nightmare to clean. It had probably been quite an expensive fitted kitchen when it was fitted 30 years ago but it had definitely seen better days. Paint was peeling everywhere, and all of the appliances in it were worn out. The microwave was even fitted literally at shin height, so we had to bend down to use it! The countertops were also far too low, and the whole room was far too dark. We'd put up with it for about ten years and it was time to make a change."
Asked why they lived with their old kitchen so long, Rosie explains:
"One of the reasons we didn't change the kitchen when we moved in is that in the house we'd left behind, we'd only recently had the kitchen done – and it had been a real upheaval. So, we thought 'we'll do that later' and kept putting it off. Thankfully the journey with Controlled Interiors was much easier and wasn't an upheaval at all, which was a pleasant surprise!"

Shopping around
"I liked Controlled Interiors straight away and was really keen to use them," says David. "Rosie however decided to shop around. She got three quotes but the reason we went with Controlled in the end came down to them being competitively priced; being professional on the phone; and the quality of their German Leicht units was far superior to equivalently priced kitchens from other suppliers.
"We found all the kitchen suppliers do a virtual design service, but one of the ones we went through with another supplier was a three-hour process where they designed on the phone as Rosie was talking. With Controlled Interiors, they ask questions then they go away, do it properly then come back to you. We much preferred that.
"Another thing we preferred with Controlled Interiors was their Leicht fittings not only looked like it should cost way more than it did, it was also more sensibly designed than other places we saw. For example, we've had lots of big drawers put low down rather than big cupboards with shelves. With the other supplier we talked to who were around the same price, we realised the drawers didn't have proper sides – they had two bars. So, we felt things were going to fall out of the drawers. Whereas the Leicht kitchens seem to have been designed to be really usable, high-quality kitchens, right across the board.
"Incredibly patient"
While David was a big fan of the fittings, Rosie – a graphic designer by trade – cites how much she enjoyed their creative process.
"It was great!" she beams. "They were incredibly patient, too. It was a new thing for us and I don't think we necessarily articulated what we wanted as well as we could have. So they came up with multiple iterations of designs where we kept asking them to change things – and nothing was too much trouble for them. That's pretty amazing when you think that at that point, they were still doing everything for free – we didn't put down any money until we'd agreed the final design.
"They made very sensible suggestions, too," adds David. "Our original kitchen was so dark that we were really pushing for everything to be white. But they actually suggested we make the kitchen island darker because it was going to be too much white. And I have to say, they were absolutely bang on. If we'd gone the way we'd originally wanted you could have put a dentist chair in our kitchen now and it wouldn't have felt out of place!"
"Stuff we didn't even know we wanted!"
As a designer, I loved that Controlled Interiors weren't scared to come back and say 'what about this,' reflects Rosie. They would go away, think about it, then come back with ideas based on how we would use the kitchen, not just how it would look. Rather than going through a boilerplate process to try and get us to say 'yes' and click 'buy,' it felt like they properly thought about our kitchen as a usable experience at every stage.
"Another thing they were really good at was working within our budget," continues Rosie. "It never felt like each new idea was going to add more zeroes to the price. In fact, they came back with ideas for stuff we didn't even know we wanted! We just told them how we were thinking we'd use the space and they trawled through lots of different websites to find the right appliances. They looked at every detail."
"For an example," interjects David, "we decided we wanted two different ovens, including one smart oven, and a microwave oven too. They went away, found ones that fitted our needs and were the style we wanted. They sourced it all. We didn't have to lift a finger."
Seeing the design come to life
Another part of the process David and Rosie were impressed with was their Covid-safe visit to our Fareham showroom.
"We were in lockdown at the time, so up to that point everything had been done over the phone," says David. "However, going in to the showroom let us physically see 'this is the worktop, these are the cupboards.'
"That was really useful," agrees Rosie. We talked to our designer, Guy, and made some adjustments based on what we saw there. Then a couple of days later we agreed the final design and signed the contract. That's when we put our deposit down.
"There was a pretty reasonable lead time after that," says David. "I think that was around six weeks or so, which allowed us to pack up our old kitchen and get ready.
"They organised everything"

Already impressed with the early design phase, David and Rosie found the next stage of our process even more pleasing.
"They organised everything – including things outside of the kitchen itself," says David. "We didn't want the breakfast room and kitchen separated – we were having a wall knocked down to open up that space. They organised that. We were having a new floor put down. They organised that as well. They were a single point of contact through all of it. They were much more than just kitchen fitters – they really did take a holistic approach to the entire space."
"The actual process of having everything fitted was also incredibly smooth. From beginning to end the whole fitting process took us around five weeks – but only around a fortnight of that was prepping and fitting the kitchen itself. The other three weeks were all the extra work we had done.
"And the whole time we were living in a different part of the house, with the fridge and freezer in the garage and a makeshift kitchenette with a microwave and portable hob set up in the corner!
"Because we were opening up the whole kitchen-diner space, we had electricians come in to rewire the electrics. We also had builders knock a wall down and take up the old tiled floor. Controlled Interiors organised it all; every tradesman went through them.
"They even adapted on the fly to the unexpected. At one point there was a problem with the floor, for instance. When they took up the tiles they ended up ripping the concrete up too. But instead of that throwing everything off schedule, they organised someone to come in and fix the floor over the weekend, so that their production plan wouldn't go adrift the following week. By Monday morning everything was back on track. And they were really calm dealing with it too. We were panicking a bit, but they explained what had happened and resolved it, all within about 45 minutes.
"This kind of project is really a once in a lifetime thing. You're not going to be a repeat customer getting a new kitchen every year. But the customer service we got all the way through was some of the very best customer service we've gotten anywhere, with anything. They treated us like next year we would be buying a new kitchen from them. I guess that's how they get such amazing recommendations."
"Incredibly usable"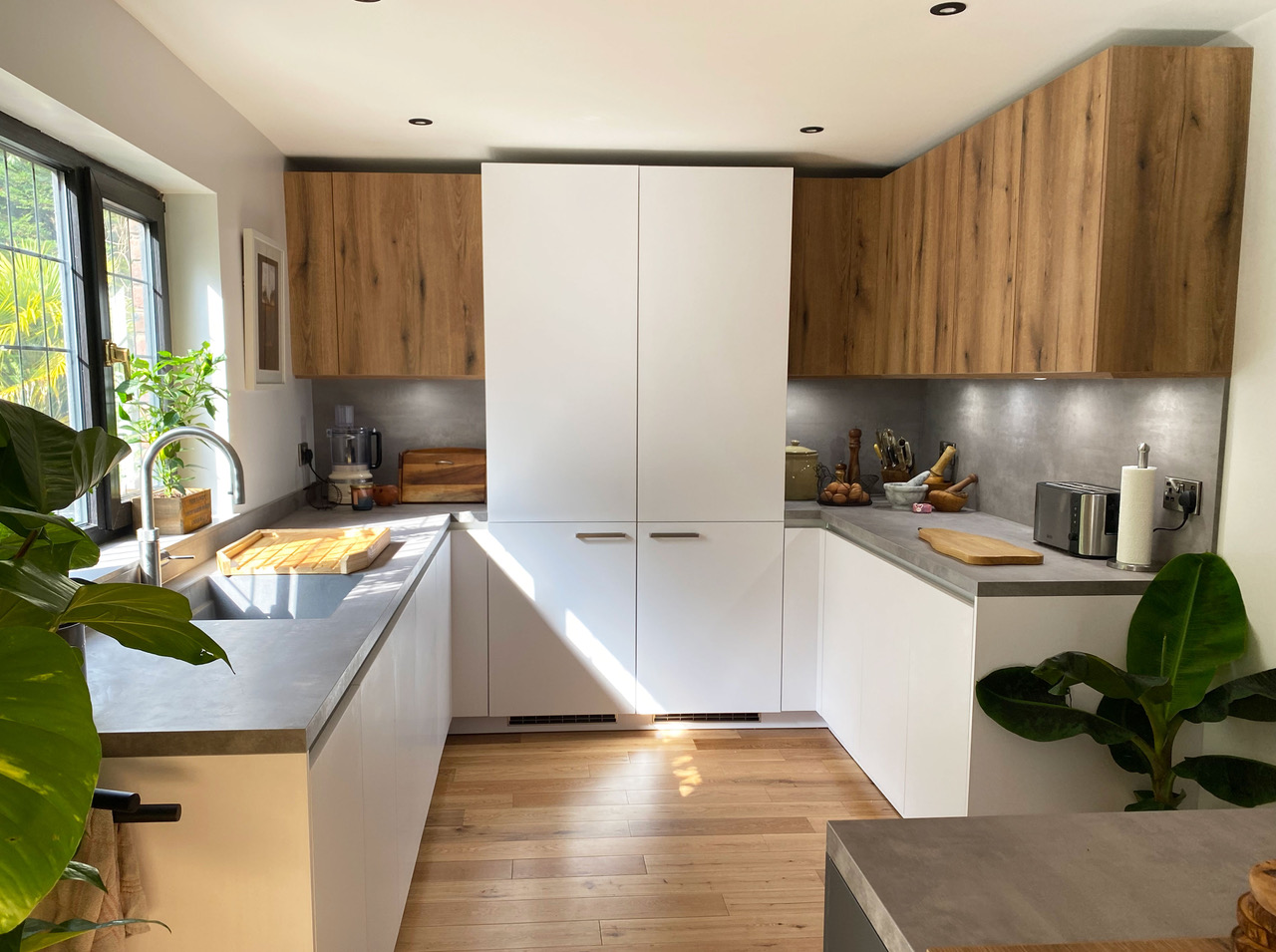 Asked to discuss their final fitted kitchen, Rosie breaks out into a big grin. "It's incredibly usable!" she says. "And light! We hadn't really realised the old dividing wall, along with the old dark units, was killing all of the light. Now our kitchen is probably the lightest room in the house.
"It's also incredibly easy to cook in, and the appliances they recommended to us are brilliant. We'd asked for a smart oven, so we could be nerds and do things like pre-heat the oven from our room when we wake up in the morning, ready to cook breakfast. But they also fitted more smart appliances too, which was kind of a nice surprise on the last day!
"Now our oven tells us when it's pre-heated," adds David. And our dishwasher tells us when it's finished. If I'd known how much I'd use it all, I'd have asked for everything to be smart.
"It's really weird though," continues David. You go from not having a kitchen to suddenly within 24 hours everything's fitted and you're cooking in it. Peeling off all the plastic for the first time was really satisfying!"
"The layout makes it really easy to navigate too," reflects David. "It's arranged in zones, so we get the convenience of being in a small kitchen, with everything you need around you. But it's actually a big kitchen, so you can go to other places and do other things."
"Honestly, I can't fault it," says Rosie. The amount of thought that went into it, it's been worth every penny.
"The heart of the house"
"Our old kitchen was small and dark and unappealing," says David. "We went in there to cook and got out as quickly as possible. Controlled Interiors have turned our kitchen into the heart of the house, which is what a kitchen is really meant to be.
"Because of Covid we haven't done masses of entertaining yet, but we've had a few things go on and everybody gravitated towards the kitchen. I really can't wait for Christmas!"
"Of all the services I've paid for, Controlled Interiors provided by far and away the best customer service. They were incredibly professional, and they definitely know their stuff. At one point they even rejected one of the worktops that had been delivered due to a minor blemish, fitted it temporarily so we wouldn't be left without a work surface, then took it back out and fitted the new one free of charge when it arrived.
"I've even called them up since and asked them questions about my appliances I could probably have answered by looking in a manual. But they were only too happy to give me the answers and help me get the most from the space they've created for us.
"I genuinely believe that if we'd gone with another company we wouldn't have got the kitchen we did. Instead we got something that really fits us and what we wanted. Controlled Interiors gave the best service we've experienced anywhere, and we love love love our new kitchen. We really cannot recommend them enough."
Thinking about having a new kitchen fitted?
We loved working on David and Rosie's contemporary Leicht kitchen– and we'd love to work with you on your space as well.
If you've been thinking about getting a new kitchen fitted for a while, or you're simply curious about how we might help you use your space, please do get in touch.
Alternatively, pop in to our Winchester or Fareham showrooms and have a chat – we'll be happy to help!
---