How To Plan Your Ideal Kitchen
The kitchen is the heart of your home, so its design should reflect the passion and creativity you'll bring to every meal and fun time shared in it with family and friends. (When gatherings are finally allowed again, that is!). It's therefore important you take time planning your ideal kitchen to get every detail just right.
Luckily, that's where this blog post comes in! Here's our list of the things to consider when planning your ideal kitchen.


1. Take stock of how you'll use the space
The best way to plan your ideal kitchen is to start by asking yourself a few simple questions:
· What works in your current kitchen?
· What doesn't?
· What's missing – and how could you plug the gap?
Great kitchen design is about usability. Starting with your experience of how you currently use your space, and how you intend to, will help put you in a designer's mindset.
Once you're there, you can see the space for what it is and focus on what it needs to be. You may, for instance, really like a corner shelving unit – but if you never need any of the things you store in it, is it just taking up space? Or might something more useful (yet still stylish) work better in that spot instead?
This first step in planning your kitchen is kind of like a conceptual Spring clean. It's all about letting go of what doesn't work, seeing the potential, and getting clear on your needs. Once you've done that…
2. Consider the layout that will best suit those needs
Your ideal kitchen layout will be shaped by how you want to use the space, offset against its actual dimensions. There is, however, a third factor you'll want to consider. It's called the kitchen triangle.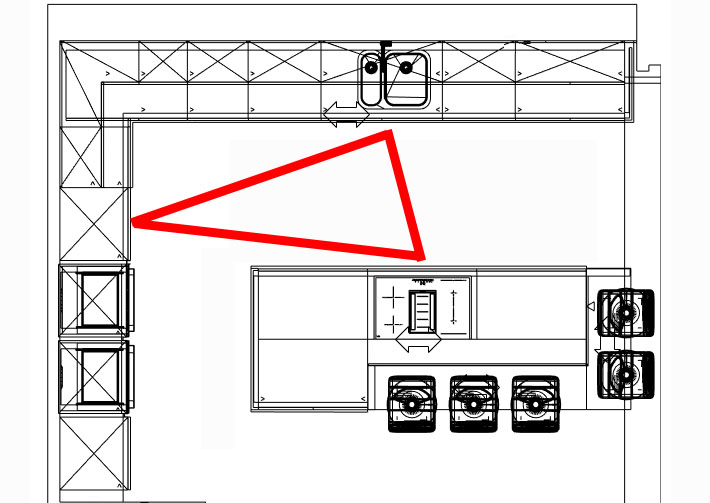 Otherwise known as the working triangle or the golden triangle, the theory behind the kitchen triangle is that your three key points – fridge, sink and cooker – should be set up to form a roughly equidistant triangle in your kitchen. This allows for a kind of circular workflow to meal preparation, allowing room for multiple people to be in the kitchen at once without any significant bottlenecks.
Architectural Digest calls the kitchen triangle "the best way to design a kitchen" – and we have to say, we agree! So, whether you're creating a traditional-feeling food prep area; adding a breakfast bar; or dividing up your kitchen and living space with a modern 'broken plan' approach, keeping the kitchen triangle in mind is one of our top tips to plan your ideal kitchen.
3. Make it real: create a floorplan
The first step to making something real is always to get it out of your head and down on paper. So when it comes to how to plan your ideal kitchen, a floorplan can be a powerful but simple way to test out your ideas while getting excited about the possibilities ahead!
You can take a few approaches to this. One is to make small scale models with folded card. Another could be to use specialist software to create a digital floorplan. But to begin with, we prefer the simple approach.
First, measure up your kitchen. Then sketch out your plan to scale on graph paper using a pencil (and an eraser where needed). Factor in doorways, windows and radiators alongside the kitchen triangle and your personal preferences, and you'll soon settle on the ideal configuration for your kitchen.
4. Do your research!
Now you have a tangible strategy, planning your kitchen can really start to happen. From showrooms (like ours!) to all manner of websites, there's a ton of ways to source inspiration for what will go into your kitchen. When you get to this stage, we'd recommend paying particular attention to the following areas:
Materials
There are so many things to consider when planning your ideal kitchen – especially when it comes to materials.
Natural Wood or laminate? Matt or gloss? Tiles or paint? Granite or Quartz? Whether you're looking at worktops, cabinets, walls or flooring, choosing the right materials and finishes for your kitchen can be dizzying at first, but also highly rewarding.
The choices you make here will depend on the style you're going for. Rustic natural finishes will never go out of fashion in classic kitchens, while contemporary ones tend to err towards the sleek and minimal. Which suits you and your lifestyle more?
Lighting
One of our tips to plan your kitchen is to spend some time looking at lighting.

Big, bold lighting solutions were one of our picks for 2021's kitchen design trends, but the specific approach you take will depend highly on your kitchen layout. A breakfast bar, for instance, might need its own spotlight, while under-cabinet lighting can be a great way to light the food preparation area in an open plan kitchen, without impacting the light levels in the nearby living area.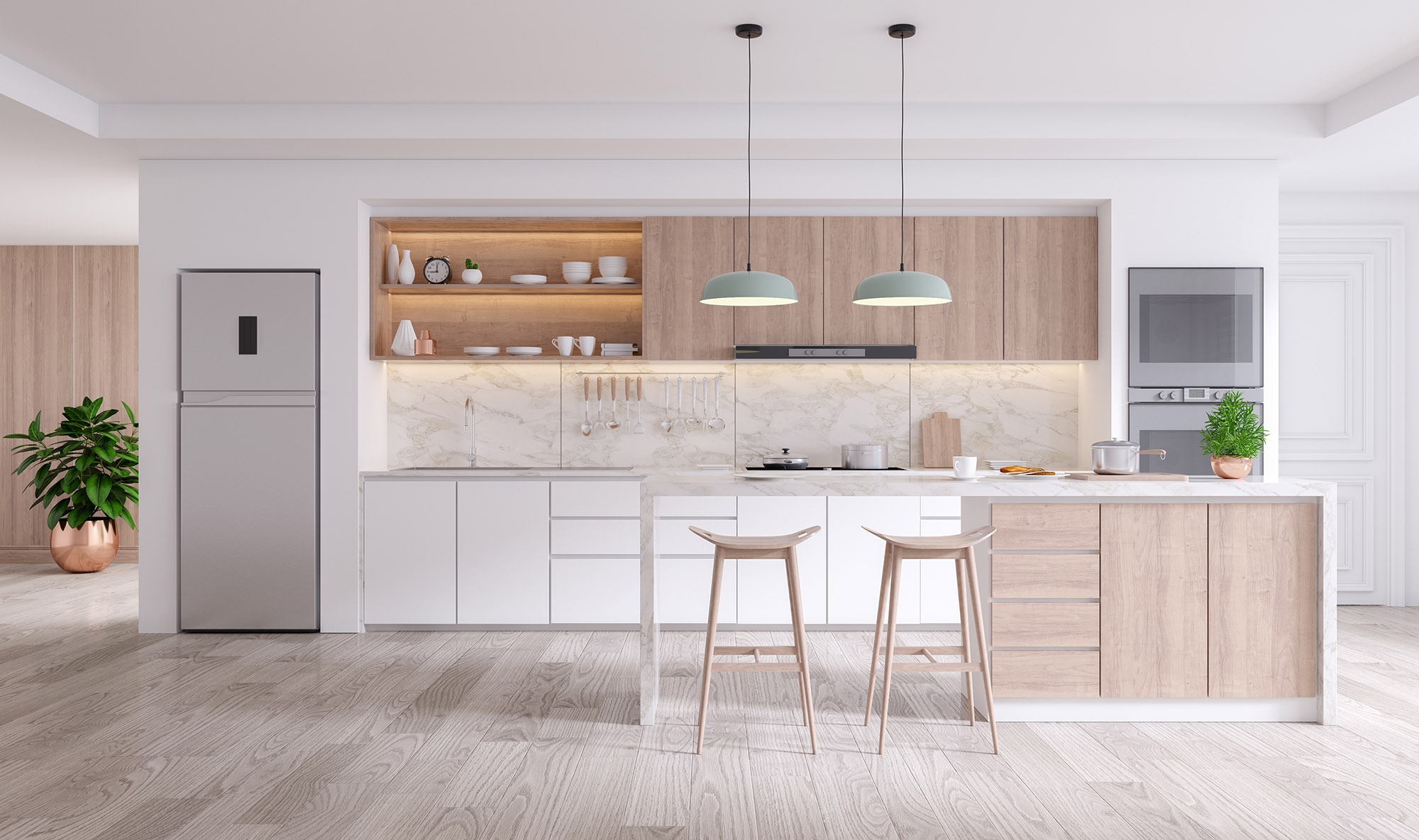 Colours
Planning your ideal kitchen also means picking perfect colour combinations.
The classic kitchen favourite of light shades and rustic wood panelling are unlikely to ever go out of fashion. However, many contemporary kitchen designs have flipped that approach, favouring a two-tone aesthetic that uses dark shades as the premier colour and lighter ones for accents. Take a look at the colour trends for this year. What will you choose?
5. Contact a specialist kitchen design company
By this point, you've decided how you'll use the space and what that will mean for your layout. You've also developed an idea of the room's flow, and even possibly picked a style to make it feel like home. Now you'll want to speak to someone who can help you pull it all together.
That's where we can help with planning your ideal kitchen. Using advanced design software, we'll produce photorealistic visuals that bring your ideas to life. You can then chat things through with us to adapt your design, making sure it's perfect for your home – before you even think about moving to ordering parts and booking an installation date.
Of course, you can also come to us long before you reach this stage. Our team has years of experience designing bespoke, beautiful kitchens to suit every need and taste. They'll advise you every step of the way, and give you tips to plan your ideal kitchen that can help you avoid any costly mistakes.
6. Make it your own
Having your kitchen fitted is only the first step in truly making it your own. Once your design is set, you can begin to add neat little personal touches, from the types of stools you use with your breakfast bar to the way you dress the windows.
You might even decide to have your wooden pantry drawers engraved to a word of your choice, or bring in unique storage solutions for pots, pans and knives. Adding these finishing touches makes a kitchen truly original to you.
What will your ideal kitchen look like?
Armed with all the information in our how to plan your ideal kitchen guide, what will yours look like?
If you need help designing your kitchen, please get in touch and we'll talk you through our process – either on Zoom, or in-person over a cuppa when lockdown laws allow.