Looking to refresh aspects of your kitchen for the new year? Or maybe you've been considering ripping out your old kitchen and starting again for a while now? Whatever your reasons – and whether you prefer the traditional look or a more modern approach – you're in the right place.
From making the most of space when it's at a premium, to cool colours and finishes, to maximising usability, these are what we see as being the most fashionable kitchen trends in 2021.
Two tones are better than one
Juxtaposing two different finishes or colours in one space is going to be one of THE big kitchen trends for 2021. You might choose to go with bright, bold colours shadowed by darker shades; a common approach in recent years. However, the real trend looks likely to flip that, with dark-coloured cabinets or kitchen counters accented by lighter, brighter tones elsewhere.
You might also decide to experiment with textured wood finishes contrasting with matte or glossy ones. Or even match bright colours on countertops to those on the walls, helping darker cabinet doors to really make a statement. The possibilities are endless!
Dark will be en vogue
Owing in part to the move to two-toned kitchens, we expect black to be back in a big way in 2021. Where darker shades were previously considered a somewhat oppressive choice for the heart of a home, now black (or darker shades of grey or brown) carry connotations of sophistication and luxury – especially when paired with a counter-balancing colour such as wood, or a tasteful gold.
Whichever showroom you visit, expect darker surfaces to stick out as one of the most prevalent among 2021's kitchen design trends.

Instant boiling water on tap
From style to function, one of the increasing kitchen trends will help you brew the humble cup of tea or coffee in double quick time. Instead of waiting for the kettle to boil, we expect more people will opt to fit an instant boiling water tap like the Quooker Flex that delivers hot, cold and 100 degree boiling water at the push of a button.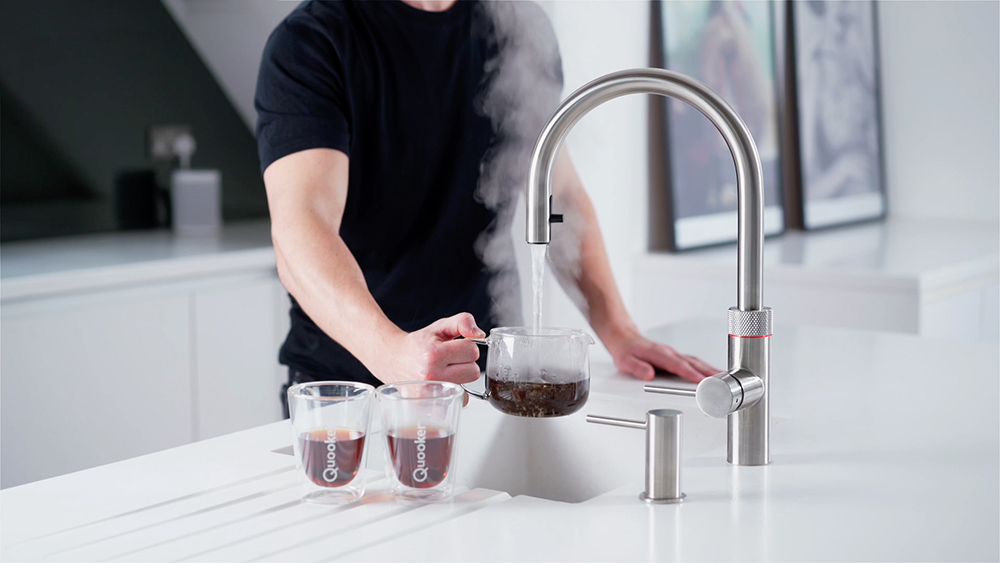 Big, bold lighting solutions
There's already a trend for kitchen spaces that feel more like a living space, and nowhere is that more apparent than in lighting solutions. One of the standout modern kitchen design trends of the next year is likely to be pendant lights. However, within this category the variety can still be pretty broad.
On browsing showrooms, you can expect to see everything from tasteful glass flutes and small steel cones, to larger painted or patterned bell-shaped covers – along with lights set at different heights, to offer an appealingly asymmetrical finish.
Not a fan of pendants? Not to worry – spotlights aren't going anywhere as a kitchen design trend!
Smart storage
Space is at a premium in many homes. Yet tastes are trending more towards the traditional in recent years; favouring large cooking areas and integrated dining spaces where the whole family can get together to enjoy breakfast, lunch and dinner.
When it comes to storage space, something clearly has to give.
Kitchen trends for 2021 look likely to address this via intelligently fusing the classic with the modern. Expect to see large pantry cupboards that can house all dry food in one place rather than behind multiple different doors. Expect corner larders that maximise that tricky spot, designed to keep cool items at just the right temperature. And expect concealed appliances to become a big deal with solutions from suppliers like Leicht, one of Germany's leading modern kitchen manufacturers.
Those solutions could include the obvious – like hiding your fridge, microwave or dishwasher behind a cabinet door. But they could also mean smart storage spaces for your kettle or toaster, or wine stored in a cooling fridge. Whatever your tastes, there'll be a smart storage solution for you amongst 2021's modern kitchen design trends.
The connected kitchen
How would you feel about being able to manage your oven, fridge, dishwasher and more, all over Wi-Fi? Whether you're at home in the next room, or preparing for the drive home, you can use smart kitchen appliances like Neff's Home Connect range to do things like preheat your oven or turn on your dishwasher from afar.
Ambient lights; cooker hoods that turn on when you activate the hob; there's even an app you can use to order ingredients for recommended recipes. All of this and more makes smart technology one of the most futuristic-feeling kitchen trends for 2021.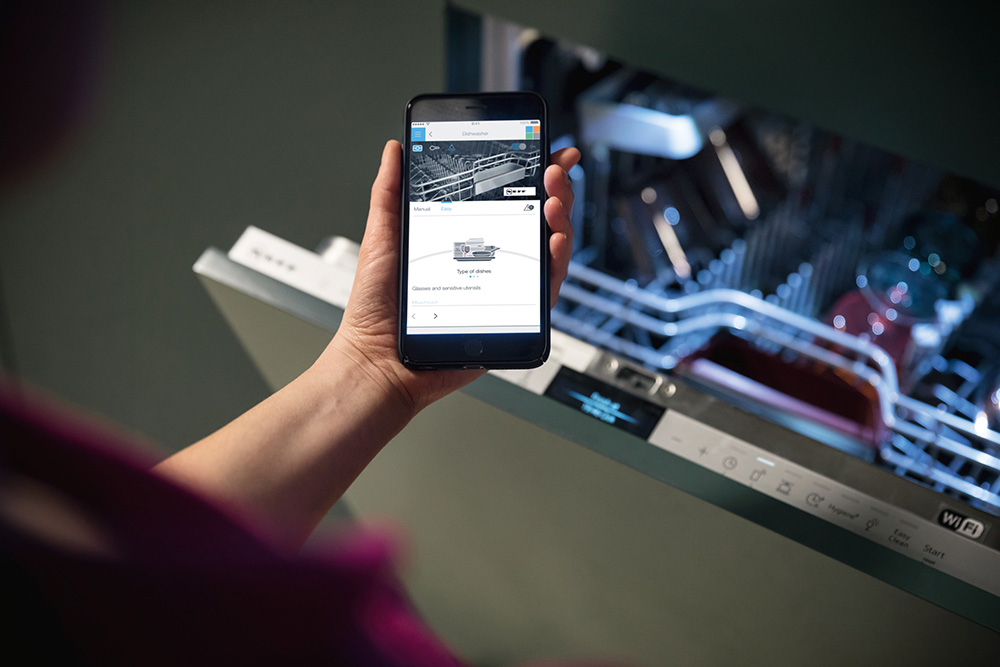 Classic shaker-style kitchens
Despite the trend towards modern storage solutions and smart technology, in terms of actual styling, the traditional shaker-style kitchen was by far our most popular in 2020 and we see that continuing in 2021. Warm, inviting and homely, a classic kitchen makes people feel safe in these uncertain times. So we expect this fusion of the new and traditional to be one of the most fashionable kitchen trends of 2021.

Open plan living
All of these aspects will combine into what we're banking on being the biggest kitchen trend for 2021: open plan living. The kitchen has always been the heart of the home – but modern food preparation spaces cross over much more nowadays with contemporary living rooms.
Whether you like the idea of a truly open plan hybrid, or prefer the 'broken plan' approach of quietly cordoning off your kitchen using a bookshelf or breakfast bar, cross-room living will incorporate all of the elements we've mentioned above and offer a truly innovative way to design your kitchen.
If you like the sound of our latest kitchen trends for 2021 – why not come see them in person? Contact us today to book an appointment at one of our COVID-compliant Hampshire showrooms either in Fareham or Winchester.