Contemporary Kitchen Design Ideas
Our last blog looked at design ideas for traditional shaker-style kitchens, but here we're going to the opposite extreme with our top eight contemporary kitchen ideas.
Modern kitchens carry a sleek and minimal look and are often full of neat little touches designed to maximise your efficiency in your cooking space. If that's your style, you'll find a lot to love here!
1. Dark or light, go for themes of extremes
There are two trains of thought when it comes to modern kitchen design. One is to go with a bright white colour scheme that maximises minimalism by feeling clinical, yet classy. The other turns that idea on its head and encourages you to go all-in on the darker, moodier tones. Whichever you prefer, we'd suggest picking a style and sticking with it.
You can always match mostly-white surfaces with lighter wood and plastics, and darker surfaces with textures and appliances that compliment them. But whatever you lean towards, keep things visually consistent – at least for the most part (we'll get to that a little later).
2. Mix materials in a tasteful manner
While you may be going for a consistent visual theme, that's not to say you can't bring different materials into play. Some of the best contemporary kitchen designs incorporate stone flooring, marble counters, wooden walls and breakfast stools made from steel and dark leather.
3. The industrial look is in
We mentioned steel there, and this is one of the most significant modern kitchen design ideas for 2021. You could go small with steel taps and grip rails; or go bigger with a combination of the brushed metal breakfast stools we mentioned above, alongside similarly coloured oven face, hob, and lighting surrounds. But if you want to go all-in, mix those with work surfaces, walls and even shiny steel-fronted white goods for a big and bold industrial finish that will blow dinner guests away.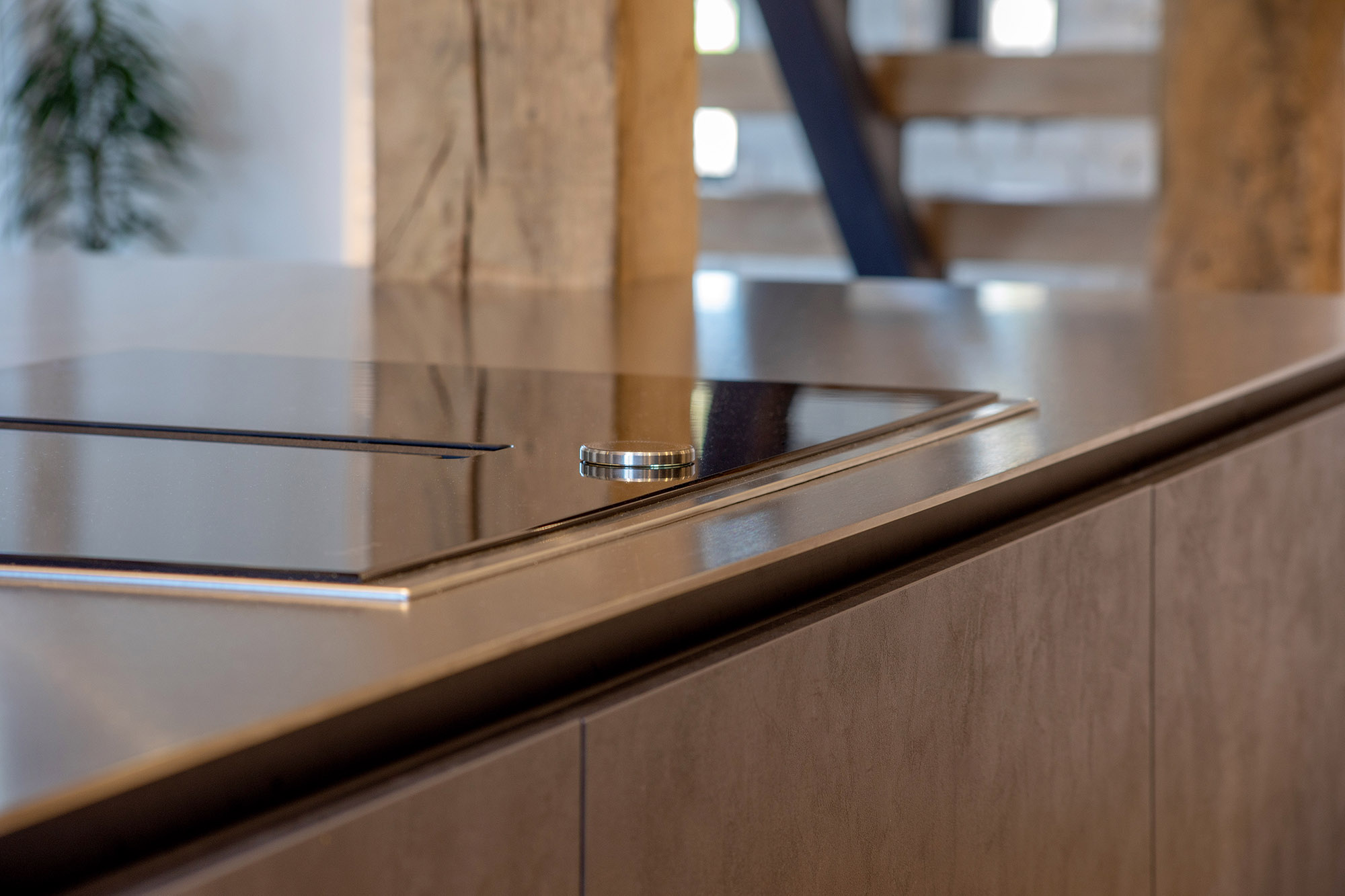 4. Add texture with wood
On the other hand, you may wish to dial things back a notch and keep a touch of something earthy in your modern kitchen. One of our favourite modern kitchen design ideas is to use dark, rich wood as an accenting material. It works especially well as a backsplash or on one wall in a space otherwise full of one colour – whether it be bright whites, or darker industrial greys. Deep, rich wooden surfaces simply bring some of nature into the home, while complementing the sleekness a contemporary kitchen is known for.
5. Use carefully chosen pops of colour
Remember when we said to keep things visually consistent for the most part? This is the exception.
We've already mentioned how you can use wood can to interrupt the consistency of dark or light kitchen settings, preventing them from becoming one-note. Well, wood is just one way to do it. There are many more, and your options will depend on the colour theme you've chosen to begin with.
An all-white kitchen, for example, could benefit from bright turquoise stools. A mostly grey or charcoal kitchen might be brought to life by a bright white or warm blue kitchen island. And theme mixing blacks, greys and browns across the kitchen could truly pop when you add gold accents or bright yellow strip lighting.
Whatever you go for, however…
6. Make minimal the watchword
Splashes of colour are fantastic, but in a modern kitchen they shouldn't be used to excess. Nothing should; minimalism and contemporary go hand-in-hand.
Unlike in our traditional kitchen design ideas blog post, which encouraged adding furniture-like cabinets and ornate lighting, here you'll want everything to serve form and function.
Some of the best modern kitchen design is as minimal as it gets, with flat vertical surfaces, sharp edges, handle-less cabinets and different forms of LED strip-lighting – both on the ceiling, and accenting kitchen islands. Don't be afraid to put a lot of these touches in; just make sure they're done in a way that doesn't draw too much attention.
7. Unassuming appliances everywhere
We've mentioned Quooker's instant boiling water tap in our last few blogs – and with good reason. But that's just the first in a long line of ways a modern kitchen can make meal preparation a breeze.
A quick glance at the accessories offered by our supplier LEICHT reveals everything from intelligent drawer sorters (COMBO), to intricately designed illuminated shelving (X-Tend+), to an aluminium railing (DOMO) which cleverly fixes cups, knives and even smart tablets to the wall, giving them the sense of floating freely in the air.
Couple that with concealed cooling drawers, smart fridges that will order groceries for you, and ovens you can turn on from anywhere with your smartphone. All of these appliances in one place are sure to change the way your kitchen works forever.
8. Open plan opens up options
The last of our top 8 contemporary kitchen ideas is one you'll see on our website, our Instagram, and in our showrooms. Space! And lots of it!
In houses where the room allows for it, contemporary kitchens are trending towards being bigger, multifunctional spaces where many people can cook, eat and relax, all at once.
That could mean spaces with big breakfast bars and a wall-mounted TV so the family can take in entertainment together over breakfast. Or it could even mean a kitchen that blends seamlessly into the living room, with zones divided subtly by carefully chosen furniture placement. Whichever you prefer, we hope this and the other modern kitchen design ideas we've presented here will help you plan your perfect space.
Looking to design your dream modern kitchen?
In our minds, no single kitchen line epitomises the best elements of everything we've said above better than the LEICHT Carbon Grey Collection. Moody yet effortlessly warm; modern yet timelessly classic; and absolutely chock-full of smart modern touches, it's a line we're proud to recommend to anyone looking for the ultimate in contemporary kitchen design ideas for 2021 (and beyond!).
If you're interested in finding out more about our LEICHT line, or would simply love to get more modern kitchen design ideas, visit our showrooms in Winchester or Fareham from 12th April 2021. Alternatively, contact us to set up a remote call via Skype or Zoom and we'll walk you through the many exciting modern kitchen ideas we have to offer!