Traditional Kitchen Design Ideas
Among the many choices you'll make when designing a kitchen, there's the big one that guides everything else: traditional or modern?
While modern kitchens are all about clinical and efficient minimalism, traditional kitchens are about warmth, heritage and detail. If you lean towards the latter, then read on for our top eight traditional kitchen ideas.
1. Embrace neutral, natural colours
First up, a traditional kitchen needs to feel warm and inviting. No crisp, cold colours here. Some of the best traditional kitchen designs feature wooden cabinet panels and walls with two colours. So, whether you prefer an appealing cream, pleasant beige, deep walnut or a dark painted finish (we find moody midnight blues are particularly popular!), the palette you pick will create the entire feel of the room.
2. Consider your cabinets' depth and finish
Rich wooden panelling may be a given, but there are two styles to choose from when it comes to traditional kitchen design ideas for 2021. Both are en-vogue, but each lends a slightly different ambience. The obvious approach would be a recessed shaker-style door. The other popular option would be a detailed beaded in-frame, which adds some extra depth and detail to your kitchen cabinets, sitting stylistically between the current shaker style and a more elegant, classic kitchen feel.
3. Bring back backsplash!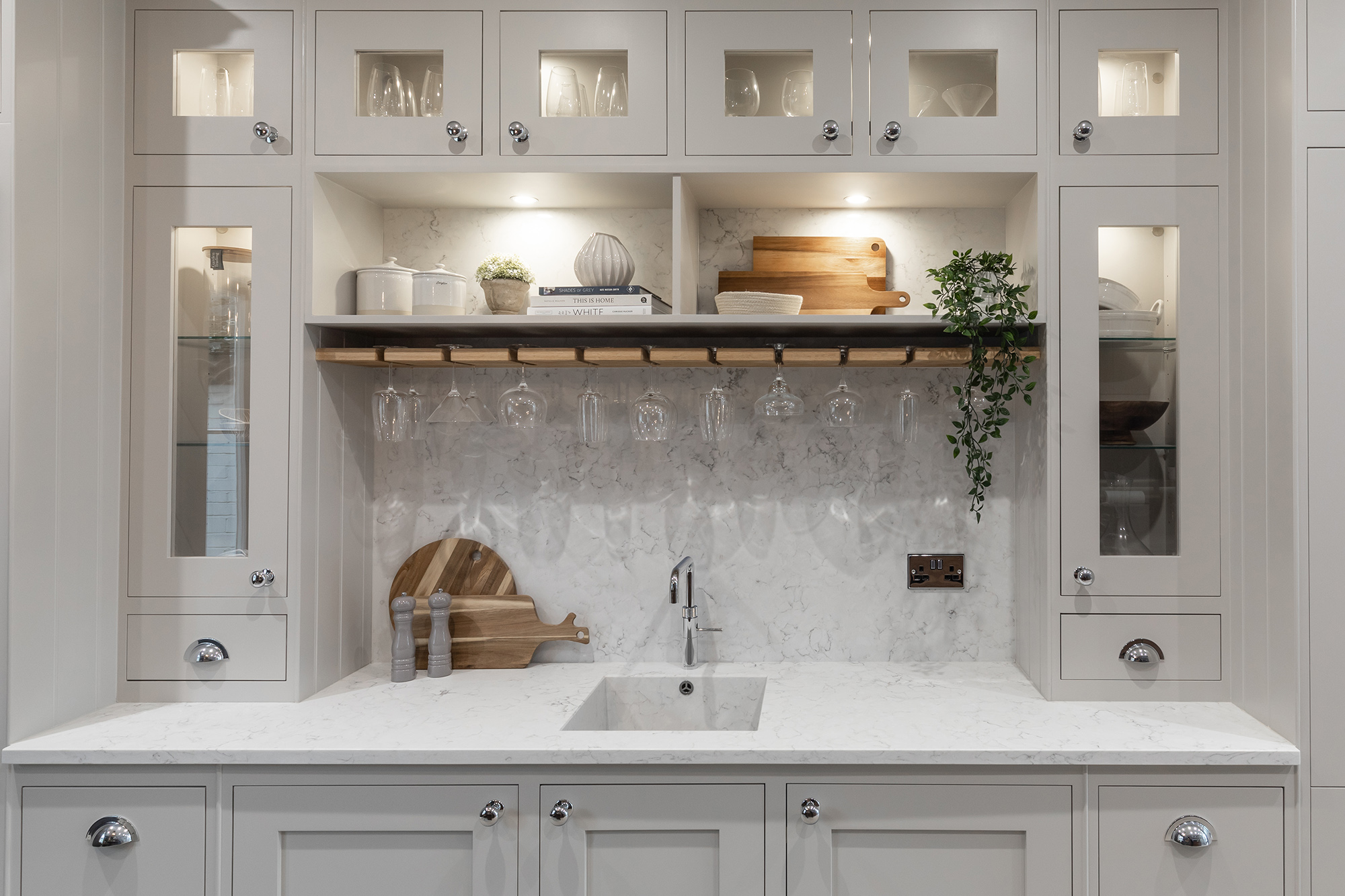 Backsplashes are those patterned pieces of wall that fill the gaps between countertops and cabinets. Both modern and traditional kitchens have these, but traditional kitchens that go too big on the backsplash can end up looking dizzyingly busy. In a room that already has so much going on, that might not be the best idea!
Some of the best traditional kitchen designs we've seen go for the middle ground, presenting an elegant backsplash with an understated pattern that gives just enough texture, without overwhelming the senses. However, the most popular current trend we're seeing leans towards using the same material as the work surfaces for the backsplash. It pulls the room together nicely – often with spectacular results!
4. Opt for flooring made from natural materials
If you prefer modern kitchens, large porcelain tiles or karndean will be your best friend. But that's not the case if you lean towards more traditional tastes. Hardwood will never go out of fashion and is always an option, and patterned tiles can be an interesting way to add texture to the part of the room that ties everything together. But in our opinion, there's something decidedly luxurious about natural, vintage stone flooring that makes it one of our favourite traditional kitchen design ideas.
5. Don't spare the decoration
Remember we mentioned your traditional kitchen might have a lot going on it in? This is why. Traditional kitchen designers don't skimp on the details, with decorative mouldings and corbels creating a furniture-like feeling on exposed wood surfaces.
And did we mention the ornate, decorative lighting? Pendant lights are a current favourite, but a chandelier can add an extra touch of class above and beyond the norm.
Of course, Those with strictly modern tastes might find this all a bit much, but some of the best traditional kitchen designs feature at least some of these elements, if not all of them.
6. Go for a 'false chimney' look
One particularly popular traditional kitchen design idea is the use of a fake chimney look, with a concealed extractor fan. It gives the illusion of a traditional-style chimney breast, hiding the fan while retaining all of the appliances you'll need to cook up a storm at the heart of your home.
7. Pick countertops that pop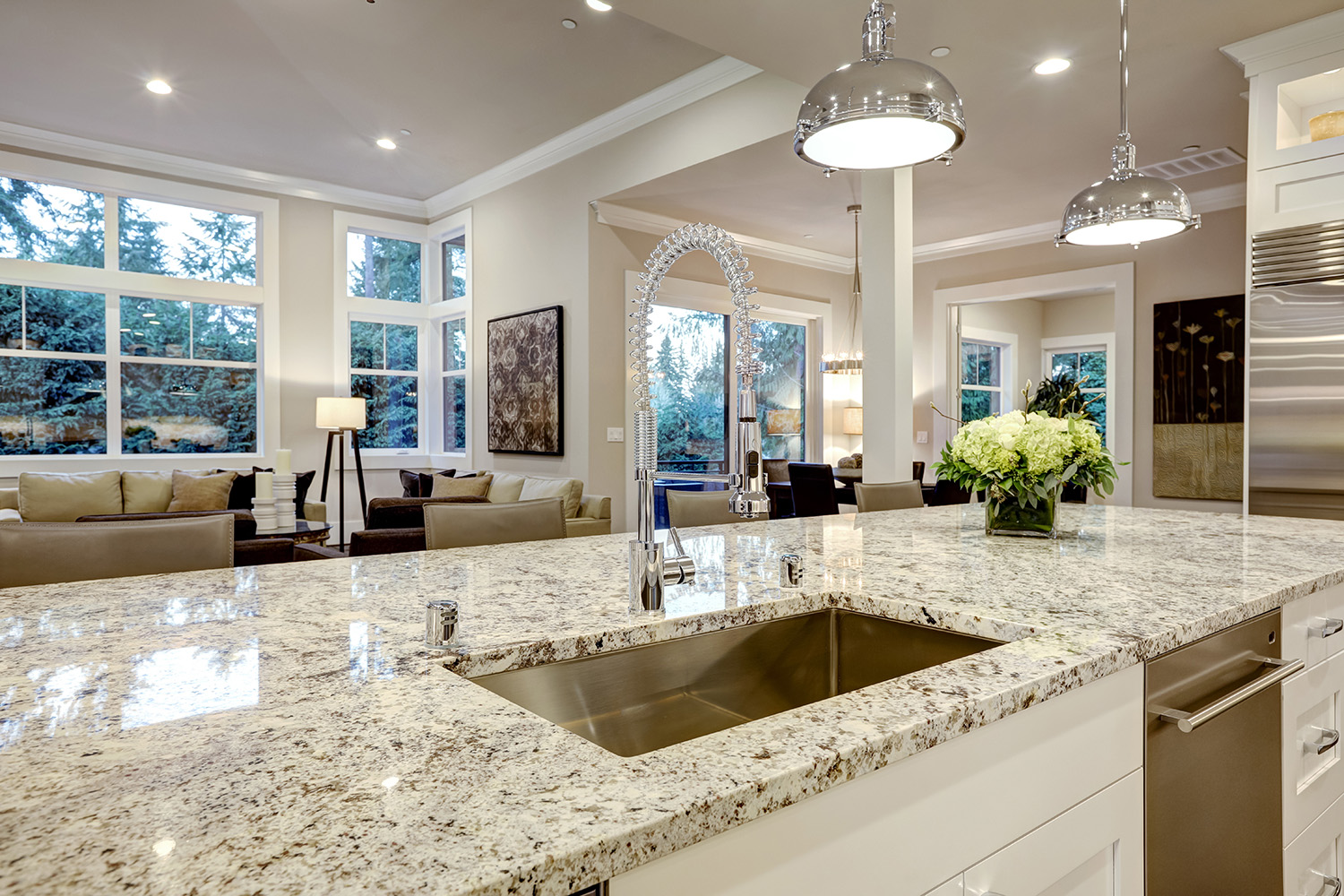 Luxury is the name of the game here. You might go for something with a pattern to bring a lot of movement to your workspace. Or you may opt for a simple and elegant one-tone finish. But either way, the material you choose will be all-important. Granite, quartz and marble all have their place, but all bring a boldness and shine befitting a space built around traditional kitchen design ideas.
8. Mix it up with a little modern flair!
The last of our top eight traditional kitchen ideas is actually a little bit of a cheat… because we think it's good to mix things up a little!
Bringing a few modern design elements into your traditional kitchen can result in a unique and innovative fusion of old-style and modern design sensibilities. Instant boiling water taps like those from Quooker can make hot drink preparation a cinch. Ornately-styled breakfast bars can give you an intimate family meal space. Under-counter lighting can add ambience to your food preparation area. Meanwhile, glass-fronted higher cabinets can help reflect light around the room, while allowing you to see which items are stored where at a glance.
Adding all of these more modern elements may feel like going too far, but incorporating at least some of them is one of our top traditional kitchen design ideas for 2021.
What will go into your dream traditional kitchen?
If you're still at the planning stage and need further inspiration, we can help. Take a look at some of the stunning designs we've recently completed, or get in touch to set up a call with one of our talented kitchen designers.
---