Have you been thinking about incorporating a bar into your kitchen design? Here at Controlled Interiors, we believe that whether you've got a spacious kitchen or a small, cosy one, a bar can add a stylish and functional aspect to the room.
Not only does it help separate a kitchen from the living or dining area, especially in open-plan setups, but it also adds an exciting talking or focal point for parties, coffee mornings or family catch-ups.
To help you find inspiration, we've put together this list of cool kitchen bar ideas that will maximise space, style and practicality.
Private Cocktail Bar
Right now, cocktails are all the rage, so why not consider restyling your kitchen to incorporate your very own private cocktail bar? The revamp is quicker and easier than you might think. Try starting by adding a few bar stools to your kitchen counter or island to give it that lazy, speakeasy feel. It's a great use of space that can double as a breakfast bar during the day.
Another nice touch might be installing a prep sink, too. These dainty, elegant workspaces are perfect for making ice (essential for cocktails!), washing glasses, and rinsing fresh ingredients as you throw together your favourite tipple.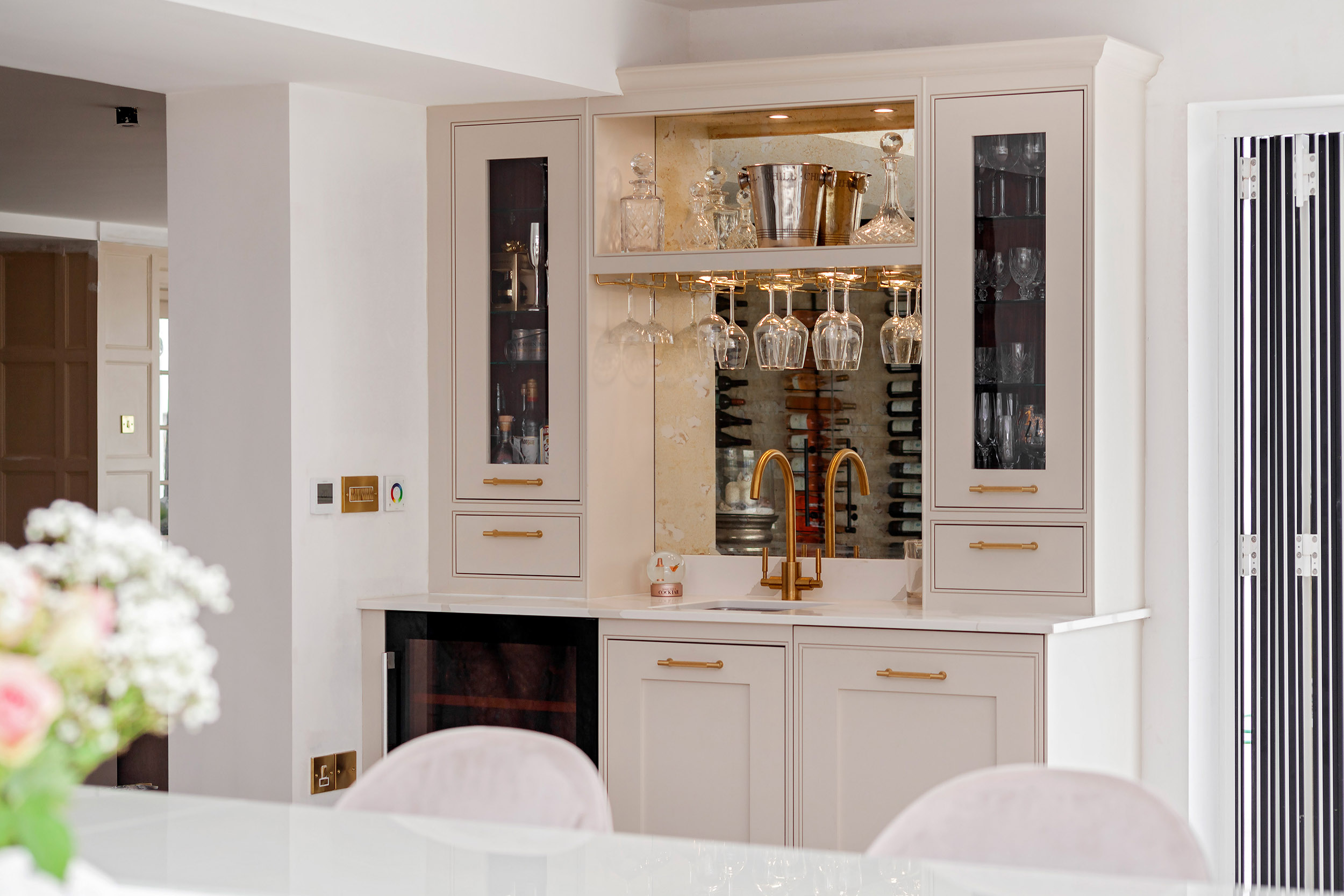 Opting for a drinks trolley is a characterful and practical way to improve your kitchen bar, too. Stock it with your favourite spirits, mixers and other ingredients to add to the sense of occasion when hosting your next cocktail party. And, when you're done, it can be easily moved out of the way to free up space for everyday life. You could go for something vintage and extravagant or a more elegant, simple style, whichever fits best with your kitchen design.
Finally, don't hesitate to spruce up your design to give it whatever aesthetic suits you best. For example, add a few tropical plants to provide it with a sunny, Caribbean feel, or evoke the Roaring 20s with an art deco vase or lampshade.
Gin Cabinet
The last few years have seen a renaissance in the popularity of gin, with different scents, flavours and styles becoming a feature in numerous bars. Why not bring a little of that magic to your kitchen with a gin cabinet feature?

Our brand partners over at 1909 have a number of exquisite kitchen feature pieces, and the Drinks Cabinet is one of their most exciting. Their ethos of the kitchen being somewhere to relax and spend time with loved ones, instead of simply a functional food-prep space, is something we support. By adapting part of your kitchen to feature a Drinks Cabinet, you can enjoy a number of different styles, tailored to your kitchen requirements.
Behind the doors is a treasure trove of tailored storage. With cross bottle holders, open-shelving, dovetail drawers, an integrated chopping board and serving tray, and pantry door racks for displaying your favourite mixers, the cabinet offers you a special place for each and every one of your home bar essentials.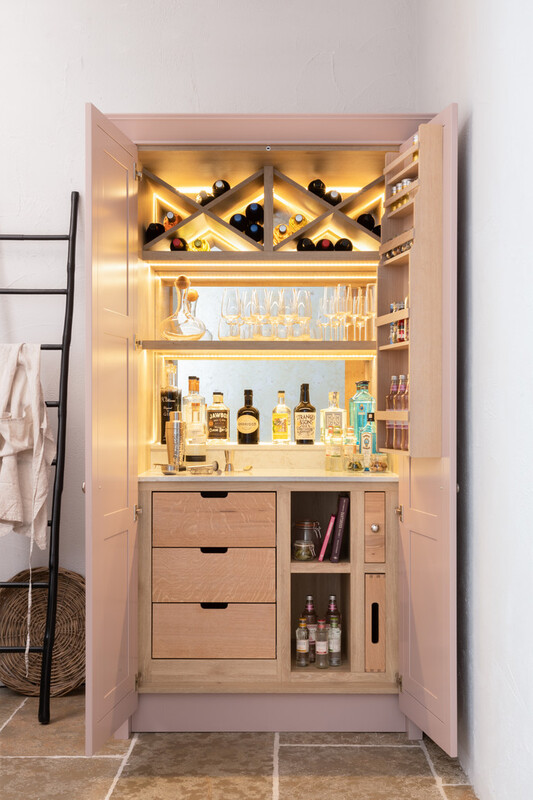 The Home Barista Experience
If you find yourself draining your budget on daily coffee shop stops, why not consider bringing that café culture home? With just a few small changes, you can transform even the cosiest of kitchens into your favourite coffee shop.
A good start would be to make your dedicated coffee station stand out from the kitchen crowd with a lick of paint. This zones the space and gives it some positive energy. A bright white paint will give a sense of space and airiness, while warmer tones will add a cosy, homely feel.
Adorn your freshly painted wall with open shelving to store your various coffee-making apparatus, too. This keeps your counter clear and free to use while keeping your cups, percolators and steamers easily reachable. You could go for a rustic, naked wood or a more contemporary design depending on the overall aesthetic of your kitchen space.
Don't forget to accessorise, too. Another idea to improve your kitchen coffee bar is to make the most of that open shelving and decorate it with the right coffee-ware. Be mindful when buying cups, jars and other accoutrements, and consider how they'll fit with your home coffee bar.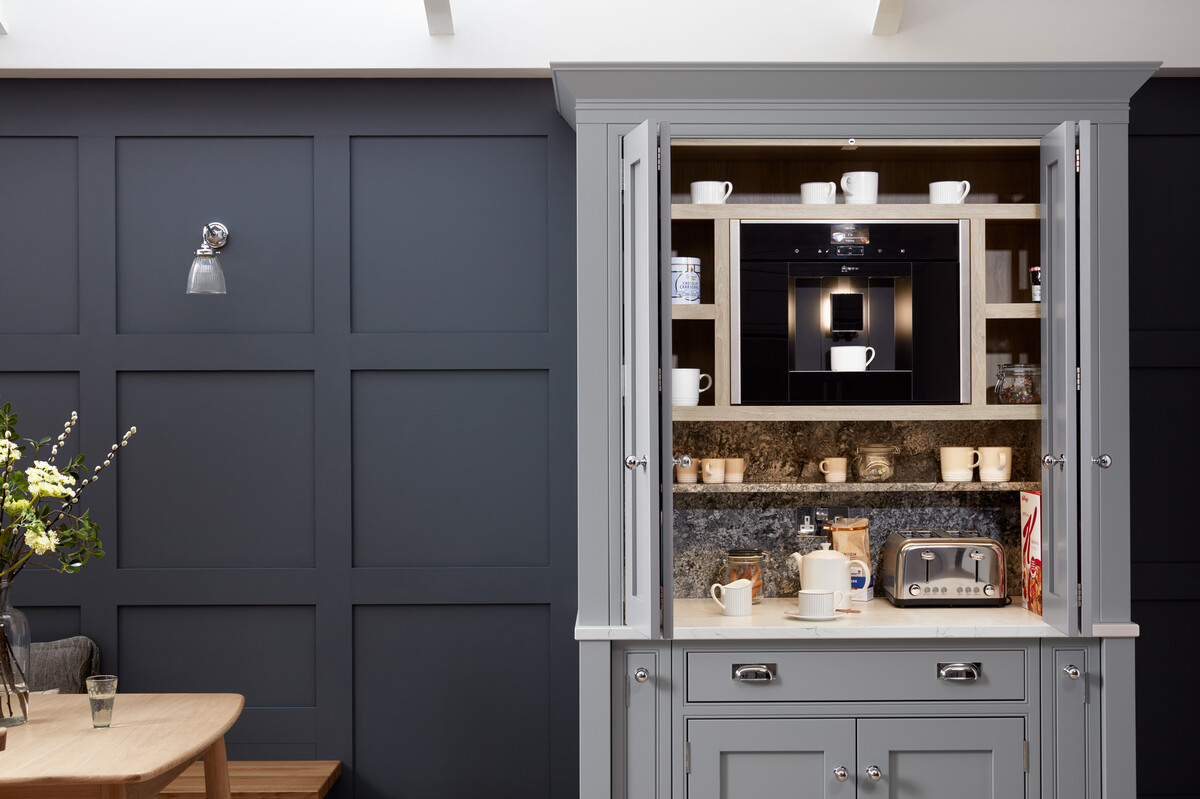 Featuring the Bi-fold Pantry Unit from our Partner 1909

Breakfast Bar
Dedicated breakfast time is increasingly popular with people working from home, and we think they're a great way to transform your kitchen bar. They give you the perfect place to enjoy light meals, snacks and refreshments throughout the day, as well as forming an excellent centrepiece for buffet parties and family gatherings.
A good breakfast bar is functional as well as stylish, so considering space is an important step. Don't think you need an extensive kitchen to make a breakfast bar work, though, as they take up less space than a table and chair and can double as a prep area when they're not in use.
Make sure you position your breakfast bar properly, with mindfulness given to flow and movement. The aim here should be to leave room for walkways and appliances while retaining a comfortable dining experience. It's worth thinking about direction, too: facing the seating area towards the stove can make for a more sociable kitchen experience when cooking or preparing food.
Last but not least, don't forget the storage possibilities that a kitchen bar can give you. Kill two birds with one stone and maximise the space under your breakfast bar by adding cupboards, open shelving or appliances. Alternatively, consider a luxury stylish feature like an under-counter wine rack or drinks cabinet.
Make the most of your kitchen bar with Controlled Interiors
If you liked these fun kitchen bar ideas and want to install one in your kitchen, then Controlled Interiors is the option for you. We've built an excellent reputation for creating stunning, unique kitchens for two decades, and our exquisite kitchen designs are made meticulously to fit your space without sacrificing luxury or quality.
We're one of the foremost luxury kitchen designers in Hampshire, meaning that you can work with us with complete peace of mind. Our high-quality customer service lets you choose your dream kitchen while we handle the rest.
To visit our showroom, book an appointment today, or get in touch with any queries.
Further Reading
- How to Maximise Natural Light in Your Kitchen
- Matching Your Countertops to your Kitchen Cabinets
- Six Different Coffee-Making Solutions for your Kitchen
---