Matching Your Countertops To Your Kitchen Cabinets
"How to make my kitchen countertop match the cabinets?" It's one of the most common questions our designers get during consultations, but the answer is never entirely straightforward.
Depending on your tastes, there are lots of different approaches you could take. However, there are some universal considerations to keep in mind, and some related questions that are wise to answer.
Here, we'll explore how to coordinate your kitchen countertops with cabinets (along with other important elements), in a way that suits your personal tastes and preferences.
What do you choose first when designing a kitchen?
Before you can think about how to match your kitchen countertops with your cabinets, you have to pick one or the other as a starting point. And in our opinion, it's far easier to begin with the countertops.
Arguably the most popular kitchen countertop these days is quartz, but stainless steel, granite, Dekton and laminate are also good go-to options depending on the style of the kitchen you prefer. Not sure which is for you? Check out our blogs on contemporary and traditional kitchen designs for inspiration.
How many colours should be in a kitchen?
At Controlled Interiors we tend to think of kitchen design in threes. We've previously discussed designing around the working triangle of fridge, sink and cooker, and on a more stylistic level we also suggest going with a three-tone colour scheme.
The beauty of this approach is you can pick two dominant colours that either compliment or contrast each other, and a third 'accent' colour that ties everything together and adds a little extra life to the space.
We've seen this work in traditional kitchens, where bright whites on horizontal surfaces and mid greys on vertical ones are matched with earthy wooden accent colours on the floor and handles. And we've seen it work in more contemporary spaces, with darker countertops, wooden cabinets and gold accessories. We've even designed quirky colourful kitchens where bright blues, sunny yellows or tasteful turquoises are used as the accent colour.
In short, when considering how to coordinate your kitchen countertops with cabinets, think in threes, and take your time picking that perfect accent colour. You'll be very glad you did.
Should cabinets be lighter or darker than countertops?
This can work both ways, depending what you want to get out of the space. Lighter tones are better for opening the space up and making it feel bigger, which can be especially helpful in smaller kitchen spaces. Darker tones are more dramatic and work especially well for stylistic extremes, whether it's a light classic kitchen or a dark charcoal effect contemporary one.
When weighing up how to match your kitchen countertops with your cabinets, consider which of these results is the most important. If it's a feeling of space, then the lighter of the two dominant colours should go on the vertical cabinet spaces, and the darker one on the horizontal countertop ones. If you want a more intense feel, flip that dynamic around.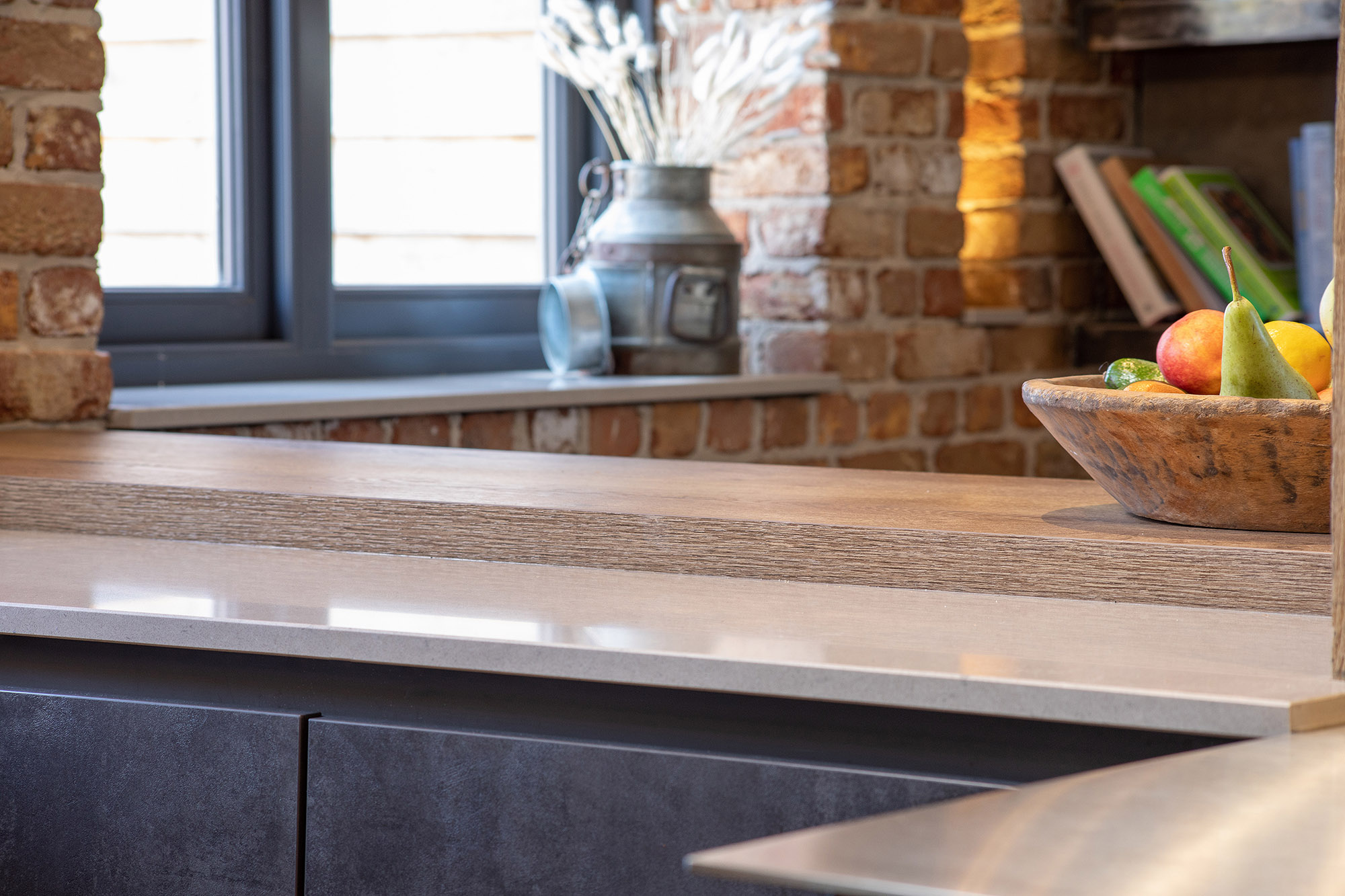 Does your backsplash have to match your countertop or cabinets?
So far we've only really discussed matching your countertops to your kitchen cabinets, but the space between the two should also play a big part in your decision-making too.
One particularly effective approach here can be to use your accent colour on your backsplash. For instance, if you have dark cabinets and white quartz countertops, you could opt for a coloured glass or mirror with a bold primary colour effect that gives the space some life. Alternatively, we've seen tasteful greys work well too, keeping a classic feel in a kitchen where lighter cabinets meet darker countertops.
Do floors have to match countertops?
Floors are another important aspect to consider in your kitchen design. Our strong opinion is that matching your floor to your countertops is preferable to matching it with your cabinets. There's just something rather stylish and unifying about having the same material on all the horizontal surfaces.
Having said that, it isn't an absolute must. Instead, the most important thing is that the materials, shades and colours you pick work well together for the style you've chosen. For example, white quartz countertops could work very well with wooden flooring in a traditional shaker-style kitchen. This can work especially well if you use that wood as your accent colour throughout the rest of the kitchen, with handles and/or cabinet trim matching the floor instead of your countertops. So it's really about much more than matching your countertops to your kitchen cabinets – it's also about how both cabinets and counters work with the other important visual elements in the space.
How do you add texture to a kitchen?
The final important question related to answer involves texture across the room. And the answer we'd give is: it's a combination of all of the above!
Texture can be about grain, pattern or colour, and how they all interact visually with each other. Marble effect countertops and/or floors for instance might bring a busyness to the space which you'd likely want to offset with matt-finish wood cabinets or stylish glass-fronted ones. Lots of high-grain wood on any cabinet or countertop surface might be well matched to flooring with a flatter, pattern-lite finish. Big, bold, colourful backsplashes meanwhile might do well in rooms with stark black or white cabinets, but in rooms where the surfaces already burst with colour, a more understated pattern could be the key to pulling everything together.
The best advice we can give? Don't just think about how to match your kitchen countertops with your cabinets. Consider instead how to make both work together alongside your flooring, backsplash, handles, trim, lighting and much more besides.
Find your perfect style with us
The great news is that with our free design consultations, you can get a feel for how different design approaches without paying a penny. Get in touch to talk about matching your countertops to your kitchen cabinets and we'll not only share our expertise, we'll get you booked in for a free design chat where you'll be able to see different design ideas come to life on a screen – with absolutely no obligation to buy.
Prefer to head into our showrooms to have a chat in person? You'll find our helpful team more than happy to answer your questions in both our Fareham and Winchester showrooms.
Recommended reading
· How To Plan Your Ideal Kitchen
· Contemporary Kitchen Design Ideas
· Traditional Kitchen Design Ideas
· Six Big Summer Kitchen Ideas
· Our New Normal: Crafting Your Dream Kitchen Post-Pandemic
---