Our Festive Checklist for An Incredible Christmas In The Kitchen
It's beginning to look a lot like Christmas! We love the festive season here at Controlled Interiors, especially the part where we spruce up our showrooms to reflect the festive feel. So if you're looking for ways to create a Christmas atmosphere in the kitchen this year, look no further – we thought we'd put some of our favourite ideas all in one place for you to try.
These aren't just tips to make your kitchen feel more Christmassy, though. They're also practical tricks to help you filter out the stress of hosting and get to the good stuff – time with your friends and loved ones.
1. Decorate your kitchen/diner
There's a natural tension when it comes to making your food prep space feel festive. You may want your room to really reflect the mood of the holiday season, but overdoing it could be an expensive investment when the holiday season is only around four weeks long.
On top of that, there's the issue of tastefulness to consider. How much is too much when it comes to Christmas décor in the kitchen? There's a big difference between the room feeling festive and looking like Santa's Grotto! These Christmas kitchen decorating ideas can help you keep on the right side of that sometimes fine line:
· Christmas tea towels can bring brightness and Christmas colours to your kitchen space without costing an arm and a leg. And the best bit is, you can drape them anywhere to spruce up the space in an instant!
· Christmas curtain netting could add elegance without breaking the bank. You can go for something incredibly Christmassy, something simple and timeless to last all year round
· Twinkling festive lights or remote-controlled strip lighting can add a little magic to the space without busting your budget
· A festive tablecloth could help pull the whole room together without overdoing the seasonal vibe
· And tastefully-placed festive ornaments can really complement your efforts elsewhere to give that holiday season feel
· Finally, Christmassy chair covers can also add to the ambience – with styles out there ranging from cartoony and kitsch to cool and classy.
2. Invest in new utensils
Another insanely genius idea to decorate the kitchen at Christmas is to be subtle about it by introducing a little bit of the festive season into the items you use to cook.
New utensils can give you the motivation you need to get into the kitchen and cook up a storm – and when they fit into the Christmas theme you're trying to create, it can give you that extra boost of energy!
Whether you're going for cute and colourful like these festive silicon spatulas or something a little more elegant like this Christmas-red non-stick utensil set with matching pot, having some festive utensils can imbue your time in the kitchen with the Christmas spirit – and give you something to look forward to getting back out again next year, too.
On a more practical level, meanwhile, buying a brand-new mixer with a big bowl can be an absolute lifesaver during the festive season. It's good whether you're rustling up stuffing mix or doing some full-on baking for your dinner guests, and you can add a festive vibe simply by choosing one in a Christmas-friendly colour.
3. Pick your recipes and gather meal and snack ingredients in good time
Another easy way to spruce up your kitchen for Christmas is to fill it with the smells you associate with the festive season. From the waft of a freshly-basted turkey, to the smell of piping hot desserts, moreish dips, and steaming hot spiced drinks, you shouldn't overlook the olfactory senses when it comes to bringing back those nostalgic memories of Christmases gone by!
These are just a few of our faves:
· Jamie Oliver's quintessentially British approach to Christmas dinner with all the trimmings
· Great British Chefs' utterly indulgent take on Christmas pudding with brandy butter
· This spicy vegan cashew cream dip that's incredible at any time of the year, but works especially well with festive finger foods – vegan or otherwise!
· This delicious hot buttered rum apple cider recipe from Tesco Real Food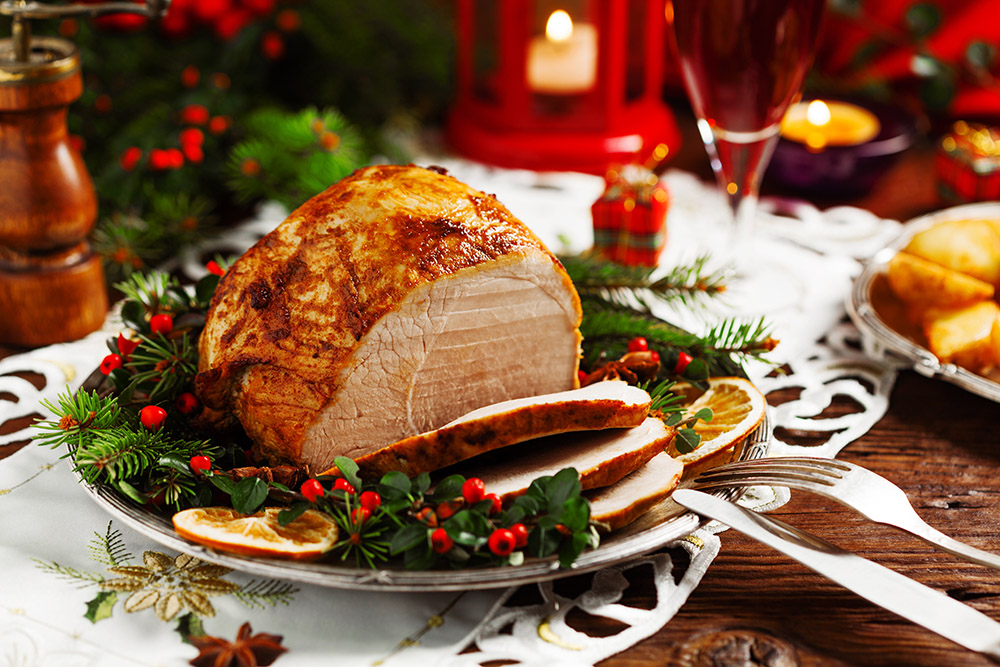 4. Take a few food prep shortcuts!
· Create chocolate curls using a potato peeler and decorate your desserts without it taking too much time or effort.
· Buy a boatload of extra tea towels – and not just for the decorative purposes we mentioned above. Simply put, Christmas can be a messy time, with more washing up to do and more spillages to clear up. We always suggest grabbing some extra Christmassy towels from cheap and using only those during the festive season. Then throw them away in January and do the same again next year without ruining your regular ones!
· Get the whole family involved in festive meal prep. This saves one person taking on the work and feeling burned out before they've even sat down to eat. If you've done that before, then you know it's no fun at all!
Christmas is about the whole family coming together, and that can mean in the kitchen too. In fact, we'd say it's one of the best ways to create a Christmas atmosphere in the kitchen.
So, hand your partner the peeler. Give the kids dishwasher duties. Ask a guest to take charge of topping up people's drinks and snacks. And if others offer to wash up afterwards – let them! It's surprising just how much delegating can take the weight off your shoulders and allow you to enjoy your day in every room of the house.
Could next year's Christmas take place in your
dream kitchen
?
If you've been cooking Christmas dinners in the same space for years and find yourself dreaming of your perfect kitchen – then you might want to get in touch with our design team.
We've been crafting people's dream kitchens for decades, and offer a free design consultation service that means you can get ideas and see designs come to life on a screen, without even paying a penny.
Take a look at our latest kitchen transformations blog to see what the results can be, and check out our piece on crafting your dream kitchen to learn what working with us could look like for you.

Recommended reading
· Kitchen Transformations: A Wonder in Warsash
· Our New Normal: Crafting Your Dream Kitchen Post-Pandemic
· Our Favourite Current Kitchen Appliances
· Autumn-Inspired Kitchen Design Ideas
· Six Big Summer Kitchen Ideas